what is Radio
Grapevine?
Radio Grapevine is the hospital radio station for St John's Hospital in Livingston.

We operate 24 hours a day, 7 days a week, 365 days a year.

And we are run entirely by volunteers
READ MORE
On Air
Now
make a request or dedication

Are you currently in St John's Hospital, or do you know someone who is?
Send a request direct to our studio to hear your favourite song on the radio...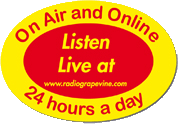 get
involved
Volunteer

Radio Grapevine recruits new volunteers at various times throughout the year to keep our service on-the-air.

If you would like to volunteer with us, please Register your Interest and we will be in contact as soon as any opportunities arise.