Join Radio Grapevine
WE ARE CURRENTLY ACCEPTING 'NOTES OF INTEREST' FOR PEOPLE WISHING TO VOLUNTEER FOR RADIO GRAPEVINE. IF YOU WISH TO VOLUNTEER FOR RADIO GRAPEVINE THEN PLEASE FILL IN THE FORM BELOW AND OUR MEMBERSHIP SECRETARY WILL CONTACT YOU IN DUE COURSE.
UNFORTUNATELY WE ARE NOT IN THE POSITION TO TAKE APPLICATIONS FOR WORK EXPERIENCE OR FOR ANYONE UNDER THE AGE OF 16.
RADIO GRAPEVINE IS A REGISTERED CHARITY AND RUN ENTIRELY BY VOLUNTEERS. IF YOU THINK YOU COULD ADD TO OUR AWARD-WINNING, LOCAL HOSPITAL RADIO SERVICE, PLEASE READ ON....
Radio Grapevine is often on the lookout for new volunteers to help run, operate and manage our unique entertaining entertainment service. We are keen to hear from you if you can commit to one evening a week and assist, on occasion, at our fundraising events. The volunteer positions we have available are, Ward Visitors, Producers, Presenters,Technical Assistants and Event Assistants.
In order to best realise the potential of new and existing members, Radio Grapevine operates a twice-yearly intake of new volunteers, once in the Spring and once in the Autumn. However we may run additional intakes when required.
If you would like to join Radio Grapevine, please register your interest with us by filling in the form below. You will be contacted by the Membership Secretary to process your application.
Support Radio Grapevine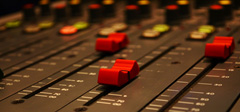 Would you like to help support your local hospital radio station?
As a charitable organisation, Radio Grapevine receives no regular income or government-support. We rely solely on the generosity of local businesses to support our service.
If you have a business and would be interested in supporting Radio Grapevine, we would be interested in hearing from you!
READ MORE about supporting Radio Grapevine
On Air
Now
make a request or dedication

Are you currently in St John's Hospital, or do you know someone who is?
Send a request direct to our studio to hear your favourite song on the radio...