Presenter: Paul Munro
Presents: Teatime Tracks
initially joined Radio Grapevine when the call went out for someone to help them with their IT Stuff. Since this was part of my day job, combined with my interest in broadcasting I thought what the heck and gave them a shout, joining in early 2010.
Instrumental (no pun intended) in specifying, installing & maintaining Radio Grapevines updated hardware platform ensuring that we are able to meet the demands of broadcasting 24/7.
It's fascinating how infectious (oh no not another pun !!) volunteering can be, fast forward several months the opportunity for me to have​ ​my own show a​s I took up the presenter slot of Tea Time Tracks airing on Thursdays 5-7pm.
Currently, I also hold the position of Station Engineer which basically means when its broke I fix it. Not one to blow my own trumpet (another pun, give it a break will you) there are several other volunteers helping me keep things in check and together we work to increase the overall engineering capability of the station.
Musically, the late 70's and early 80's is my thing. ELO, Queen & Status Quo being my favourite bands and is often reflected in my show. That said I like anything with an energetic foot tapping beat and especially love how some of the recent remixes have brought these old bands music bang up to date.
I'm one of many presenters on the roster at Radio Grapevine that love what we do. I would encourage anyone who would like to help or entertain others to consider getting in touch. You don't need to be on air, connecting with a patient on a one to one level is so rewarding both for you and them and ultimately we want to aid their speedy recovery. Go On, join us
Our Presenters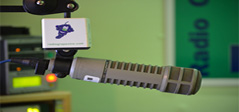 See the faces behind the voices
Our team of talented, award-winning and dedicated presenters bring you West Lothian's biggest Hospital Radio hits...but who are the people behind the voices?
See our Presenters
On Air
Now
make a request or dedication

Are you currently in St John's Hospital, or do you know someone who is?
Send a request direct to our studio to hear your favourite song on the radio...