Presenter: John McMillan
Presents: Souled Out & Midweek Special
I Love Music and was brought up on Radio 1 (275-285 MW) with my favourite DJ being Mike Read on the breakfast show who would wake me up for school every day. I always thought that would be a great job. My obsession with music started exactly at that time when Ska, Two Tone & the Mod bands exploded into my life. I would spend every penny of my pocket money on records by Madness, The Beat, Bad Manners, Secret Affair and, of course, one of the greatest bands ever, The Jam (who I saw at Ingliston in September 1982 at the age of 13)!
My life would revolve around the whole Mod scene for many years to come, where I discovered the wonder of Otis Redding, 60's Soul, RnB, Jazz and Latin Soul. My record collection is quite varied and eclectic (a bit like Pick & Mix) and I have never sold or got rid of anything, except my Adam & the Ants singles - Come on!!!
I started DJing at mod nights in Edinburgh and later scooter club events around Scotland and love when you get people dancing to 50 year old records.
My biggest claim to fame was that I DJ'd upstairs at the last night of The Venue in Edinburgh - Such a loss to the live music scene.
I joined Radio Grapevine in 2013 and started on a Thursday night as a request collector along with Rob-Y-n. Mr Tony Grant gave me my "Live" air break when I had to come up with a weekly two minute "Entertainment News" slot, wow that was nerve racking!
After a bit of training on the Desk, I was given the go-ahead that I could present shows. And man did I present shows, I covered everybody's show to get the experience, I think I did every 8:30 show one week. Eventually, Tony's work commitments forced him to hand over the reigns of Thursday night's Pick & Mix to me. And I love it! I love following Shelley's show and the fun we all have. I still come in and go round the wards to collect requests from the patients and staff. Chatting to a patient and playing their favourite song to make their stay in hospital that wee bit better makes me feel a wee better too!
When I applied to join, I was asked why I wanted to join Radio Grapevine. I said to give something back to the hospital and community and I hope I do each and every week!
Our Presenters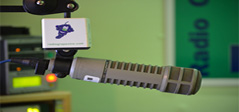 See the faces behind the voices
Our team of talented, award-winning and dedicated presenters bring you West Lothian's biggest Hospital Radio hits...but who are the people behind the voices?
See our Presenters
On Air
Now
make a request or dedication

Are you currently in St John's Hospital, or do you know someone who is?
Send a request direct to our studio to hear your favourite song on the radio...