Presenter: Doug Scott
Presents: The Gospel Hour
I've been a member of Radio Grapevine for a good few years now. Now that I am officially retired from full time work I thought it would be good to give something back to St Johns hospital and Radio Grapevine seemed the ideal way to do that. I have had a keen interest in music since I was a teenager and so the music from the 60's is probably my favourite. As a teenager I went to all the best bands/groups of the 60's including the Beatles. I also have had a keen interest in gospel music over the years and have a very large collection of many different styles of gospel music. I started as a request collector for Radio Grapevine on Tuesday nights and find this very rewarding being able to chat with the patients and to be able to play a piece of music just for them.
Doing a gospel music show on a Sunday nights will, I hope, bring a little bit of sunshine in to someone in St Johns. I am also happy to play any requests for the patients and staff.
Our Presenters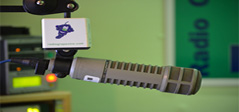 See the faces behind the voices
Our team of talented, award-winning and dedicated presenters bring you West Lothian's biggest Hospital Radio hits...but who are the people behind the voices?
See our Presenters
On Air
Now
make a request or dedication

Are you currently in St John's Hospital, or do you know someone who is?
Send a request direct to our studio to hear your favourite song on the radio...