Presenter: Debra Davies
Presents: Senior Moments
l joined Radio Grapevine without any ambition to present a radio programme – it had never been on my radar!
When I started volunteering in February 2017, I enjoyed meeting the patients as I went round the wards collecting requests, I helped produce the live shows and made some good friends at the station. As time passed, I decided to give presenting a go and when the opportunity arose to cover a show for another presenter I was apprehensive, but up for the challenge!
I wasn't sure how a London accent would go down on a Scottish radio station but was assured I sounded ok!
To date I have never looked back! I'm a big fan of the music from the early 80s but my tastes cover the music from the 50s, 60s and 70s too. I don't think I could name a favourite band but the list would have to include Queen, Madness, The Beatles, ELO, The Police and Adam and the Ants! I have also become involved in Radio Grapevine's outside broadcast events which are great fun.
Debra can currently be heard presenting 'Senior Moments', a request show on Tuesday evening at 8pm.
Our Presenters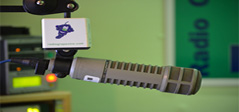 See the faces behind the voices
Our team of talented, award-winning and dedicated presenters bring you West Lothian's biggest Hospital Radio hits...but who are the people behind the voices?
See our Presenters
On Air
Now
make a request or dedication

Are you currently in St John's Hospital, or do you know someone who is?
Send a request direct to our studio to hear your favourite song on the radio...