Presenter: David Evans
Presents: Cool Country
Radio Grapevine came to my attention when I was 16 years old. Before that, I had dabbled in acting for a number of years, including working for the BBC on a number of radio plays. It was then that I discovered I loved spending time in a studio environment. I have a heart condition (see photo!) and so had spent a good deal of time in hospital; not only was volunteering at Radio Grapevine giving me 'studio time' but I was also giving something back to the NHS, in a roundabout way. Since then, I have toured the wards, collecting requests and getting the patients involved in competitions. I have produced and presented a number of shows over the years, including 'The Midweek Special' and 'Cool Country', both of which still play today.
I participated in Radio Grapevine's commercial stint as 'Real Radio', presenting two very different types of music shows. I also present at the occasional outside event that Radio Grapevine delivers across the community. Finally, I have in the past served on the Radio Grapevine Committee, being elected on a number of occasions into the post of Membership Secretary.
Musically, I was brought up on a diet of rock & country music courtesy of my Mum &Dad respectively, so it's no surprise that my favourite bands are Pink Floyd and The Eagles! I have a broad musical taste although in general I avoid jazz unless it's Norah Jones.
I still get a kick out of presenting a live show on the radio, but being a volunteer at Grapevine is much more than that. I have many good friends that I may have otherwise never met had I not volunteered at the station. I get the chance to meet many different kinds of people, play great music and help make the day go just a little bit better for the patients of St John's.
You can currently hear me on 'Cool Country', every Monday afternoon at 5pm.
Our Presenters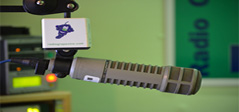 See the faces behind the voices
Our team of talented, award-winning and dedicated presenters bring you West Lothian's biggest Hospital Radio hits...but who are the people behind the voices?
See our Presenters
On Air
Now
make a request or dedication

Are you currently in St John's Hospital, or do you know someone who is?
Send a request direct to our studio to hear your favourite song on the radio...