Presenter: Bob Howden
Presents: Pick & Mix
As a long time collector of popular music, I joined Radio Grapevine in 2014 to give something back to the community when I retired from full time employment.
I started out as a request collector on Thursdays on the Pick & Mix show, and after a few changes of presenters, I was encouraged to get behind the mic. This started off as cover for one of our country shows, progressing to covering other shows when their regular presenters were not available. My own regular spot is a chill out hour of downtempo relaxing music which has been known to send people to sleep just before our request collectors come round the wards! And I've just started presenting our Thursday night request show Pick 'n' Mix – so do tune in!
Whilst the above seems to be almost seamless, unfortunately just as I was getting into my stride I caught a life threatening infection which resulted in a long(ish) stay in St John's to receive treatment prior to undergoing major surgery at the Edinburgh Royal Infirmary.
As a patient I really appreciated the work of the volunteers in hospital radio both at St John's and at the Edinburgh Royal Infirmary, so I take special care when collecting requests to find out more about our listeners and what's behind their requests.
I also assist at a number of our outside events throughout the year.
Our Presenters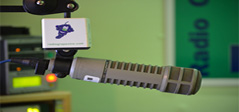 See the faces behind the voices
Our team of talented, award-winning and dedicated presenters bring you West Lothian's biggest Hospital Radio hits...but who are the people behind the voices?
See our Presenters
On Air
Now
make a request or dedication

Are you currently in St John's Hospital, or do you know someone who is?
Send a request direct to our studio to hear your favourite song on the radio...