Presenter: Andy Mack
Presents:The SOunds of Scotland
Andy was born Fyvie, Aberdeenshire and spent the first few years of his life in NE of Scotland with the Doric, developing his wry sense of humour. When most teenagers were listening to The Beatles and The Rolling Stones, Andy was tapping his toes to more traditional tunes. The White Heather Club, Thingummyjig and Shindig were among Andy's favourite TV shows. He grew up in Ayrshire, in the heart of Robert Burns County, where he developed his great love of Scottish music.
Andy Mack has hosted ''The Sounds of Scotland'' show for 10 years. The show is broadcast on numerous Radio Stations around the world, including Radio Grapevine, to Scots and Scottish exiles. Each week Andy plays a great mix of Scottish Music, from the Bothy Ballads right through to the Pipes, and everything in between, with all your requests and dedications
Andy is recognised as an authority on Robert Burns and speaks at Burns Supper's internationally. He wears his kilt with great pride and hosts numerous Scottish Festivals and events in North America where he resides.
Our Presenters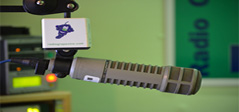 See the faces behind the voices
Our team of talented, award-winning and dedicated presenters bring you West Lothian's biggest Hospital Radio hits...but who are the people behind the voices?
See our Presenters
On Air
Now
make a request or dedication

Are you currently in St John's Hospital, or do you know someone who is?
Send a request direct to our studio to hear your favourite song on the radio...