Presenter: Aimee McMahon
Presents: Broadcasting Broadway
Hi all!! My name's Aimee - presenter of The Friday Playlist, producer of The Midweek Special and general Grapevine busybody! I joined the station in November 2009 with the Wednesday Crew, got shifted to Thursdays for a few weeks before the Wednesday volunteers decided they couldn't do without my hilarious banter and came crawling back for me….that's my story and I'm sticking to it!!
I love everything about Grapevine, but in particular the summer and Christmas roadshows are my favourite! It's great to get out with the crowds, get everyone involved in silly games and basically shout about who we are, where we come from, and if they don't hear us, well you get the idea!
I don't really remember how I got involved in Grapevine, but I do know it's been the best volunteering experience I've had. There have been so many memories already and I've met people of all ages from all walks of life who I perhaps wouldn't have mixed with if it wasn't for the station. The best part is you don't have to be a "technical" person to get involved, so come along and try it! DO IT (if you want that is…you'd be most welcome…particularly on a Friday….applications from smiley people with awesome sense of humour welcome).
Our Presenters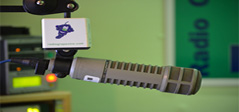 See the faces behind the voices
Our team of talented, award-winning and dedicated presenters bring you West Lothian's biggest Hospital Radio hits...but who are the people behind the voices?
See our Presenters
On Air
Now
make a request or dedication

Are you currently in St John's Hospital, or do you know someone who is?
Send a request direct to our studio to hear your favourite song on the radio...